A message from RICHMOND MIDDLE SCHOOL
Frances C. Richmond Middle School Friday Focus
Friday, November 06, 2015
Scenes from our "End of Q1 Fun Run and Walk" today. Photos @rmsnurse
+Principal's Corner

Dear Parents/Guardians,
We've had a busy week at RMS. For the Friday Focus I am including some photos and short descriptions of highlights from the last week. Enjoy!
Sincerely,
Michael Lepene 
Principal
@mlepene
Students in PE with Catherine Patch enjoy some fall woods games in the leaves. Photo C Patch.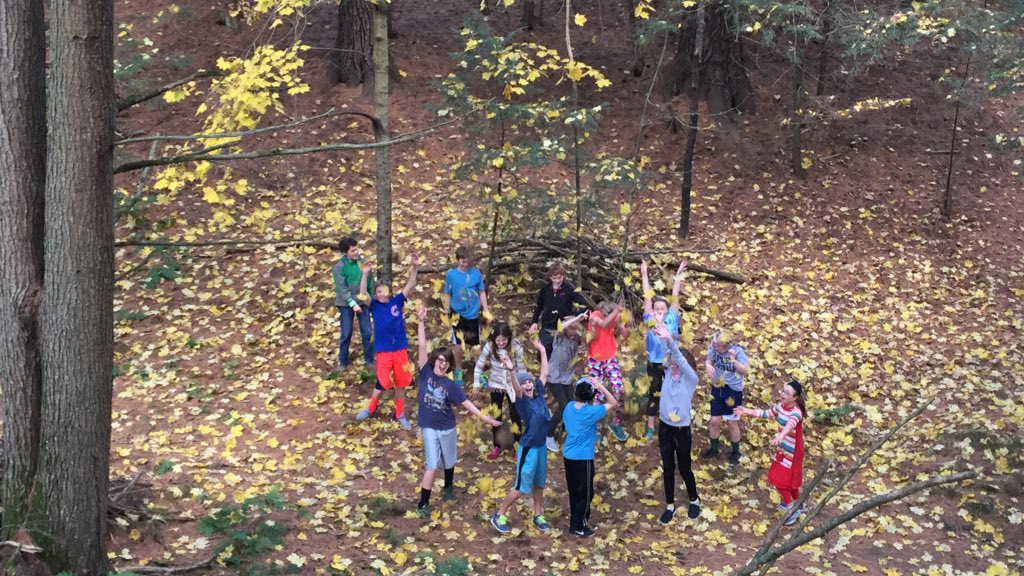 Students tried out computer games created by the RMS programming elective class in the lobby at lunch. Photo A Yates.
Mr. Lepene and Mrs. Yates (with Mr. Schluntz) cooked a pancake breakfast for the Lepene, Schluntz, Alloway homeroom this week. The LSA homeroom won the popular vote in the Principals' Pumpkin Decorating Challenge. Photo H Lepene.
8th Grade students heard from a college admissions officer this week during Morning Meeting. The topic was digital citizenship and making good choices about our online footprint. Photo A Grzesitza.
RMS students from the leadership electives handed out a snack at dismissal Friday as a "Random Act of Kindness."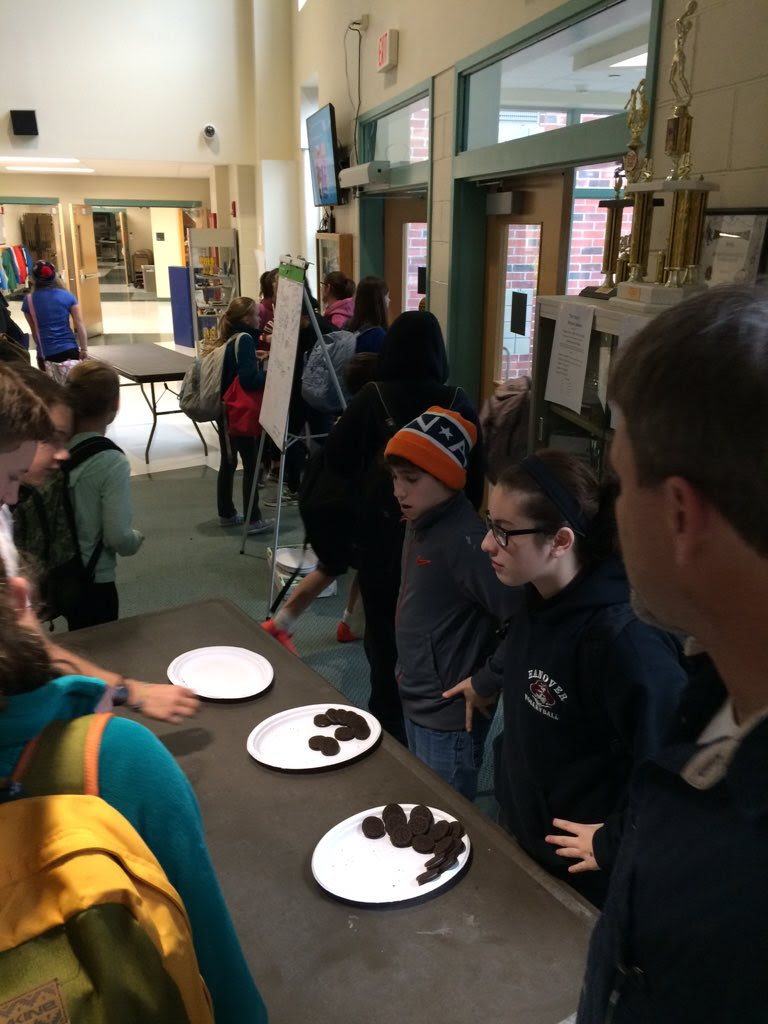 Other events from RMS this week not pictured: RMS hosted a showing of the film CodeGirl, all-school Fire Drill, the 8th grade class visited HHS for a performance of "The Taming of the Shrew", and RMS welcomed a group of French exchange students for the week.

+All School News and Events (RMS web site has GoogleCal with events and dates/times)
Friday, November 6 - End of Q1. (Report Cards available in the student portal 11/13/15)
Wednesday, November 11 - No School Veterans Day
Wednesday, November 18 - Schoology Parent Work Session with RMS Tech, 1200-100p, RMS. RSVP with Marty Warren.
Friday, November 20 - RMS Fall Talent Show, 700-900p, RMS auditorium.
+RMS Notes and Information
-RMS Technology News:
1.  We're looking to fill a couple parent vacancies on our 
1:1 iPad Advisory Committee
.  The committee generally meets monthly and it's purpose is to discuss questions and concerns of students, teachers, parents and community members regarding the RMS 1:1 iPad program. Interested parents should contact Marty Warren at 
martywarren@dresden.us
2.  8th Grade Teachers are encouraging 8th grade students to bring a pair of earbuds to school to keep at school for their iPad use. Please let your homeroom teacher know if you are not able to obtain a set.
-(Update) Thanks to all students, staff and parents for your generous donations to our annual Haven Food Drive.  We easily reached our goal of 2500 items and were able to match that with a $1500 donation from several RMS families.  One of our most successful drives ever.  Special thanks as well to Price Chopper who loaned us shopping carts that were used in individual homerooms to store donations.
-Fun Run/Walk to celebrate Q1: RMS nurse Abby Pelletier and counselor Liz Powers invited students and staff to join them for a one mile fun run/walk at lunch today. We hope the event encouraged wellness and was fun for all involved.
-(Repost) RMS Parents are invited to a Schoology How-To and Work Session with RMS Technology staff on Wednesday, November 18 from 1200-100p. In this hands-on session technology staff will help you navigate Schoology and also answer your questions. Please RSVP with Marty Warren if you will attend so we can determine what size space we need. Thank you!
-(Repost) 
RMS will have a public screening of "
The Big Picture: Rethinking Dyslexia
" (a fifty-minute film) at RMS on

Thursday, November 12 at 7:00 pm

. Please consider joining us. Contact: Becky Wipfler.
-(Repost) Budget 2016-2017: Last year we were able to include funding for an after school homework program and some additional funds for new textbooks in our budget. We are currently in the process of organizing our operating budget for the 2016-2017 school year. Please consider offering your suggestions for new programs/opportunities and/or savings through this quick survey. We appreciate your input in this process. Thank you, Mike Lepene.
-(Repost) Call for WOODEN 
FURNITURE
 to be recycled into Art:  In an upcoming art class,  we are looking to transform some furniture into works of art, so we are looking for donations of WOODEN chairs/end tables/stools/small benches.  This is a good chance to clean out your basement AND help the art program at RMS.  If you can help us,  please contact Ms Glass at 
sarahglass@hanovernorwichschools.org
.
+Community Calendar and Activities